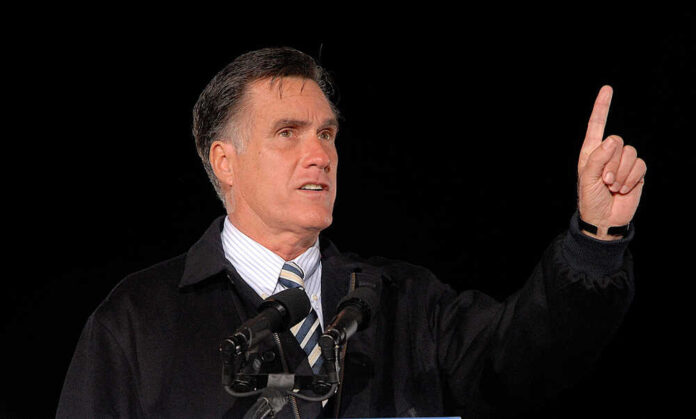 One Republican senator has called on major Republican donors to begin putting pressure on GOP presidential candidates who aren't polling very well to drop out of the race in 2024 in an effort to take down former President Donald Trump.
On Monday, the Wall Street Journal published an op-ed from Utah Senator Mitt Romney that read donors have to pressure the candidates who don't have a clear path to winning the GOP nomination to hurry up and drop out of the race. Romney said they all need to make sure they're out of the crowded field by, at the latest, next February.
In the op-ed, Romney wrote:
"Despite Donald Trump's apparent inevitability, a baker's dozen Republicans are hoping to become the party's 2024 nominee for president. That is possible for any of them if the field narrows to a two-person race before Mr. Trump has the nomination sewn up.
"For that to happen, Republican megadonors and influencers – large and small – are going to have to do something they didn't do in 2016: get candidates they support to agree to withdraw if and when their paths to the nomination are effectively closed."
Romney is no stranger to the Republican primary race. He ran in both 2008 and 2012, capturing the GOP nomination in his second campaign.
He has some experience, then, on the topic when he says that many candidates who are polling low probably won't decide to withdraw from the race on their own for two main reasons – it gives them national political exposure, and they're likely benefitting from it financially.
As he wrote:
"There are incentives for no-hope candidates to overstay their prospects. Coming in behind first place may grease another run in four years or have market value of its own: Mike Huckabee and Rick Santorum got paying gigs.
"And as former New Hampshire Governor John H. Sununu has observed, 'It is fun running for president if you know you cannot win.' Left to their own inclinations, expect several of the contenders to stay in the race for a long time."
The problem with these candidates staying in the race for so long, according to Romney, is that they'll all likely split the vote among people who decide they don't want to vote for Trump in the GOP primaries. Ultimately, this will hand Trump the prize of the GOP nomination.
Part of the reason for this is that all it takes for a candidate to win a state in the primary season is a plurality of the votes.
Romney wrote that donors can't rely on leaders in the Republican Party or consultants and staffers to the various GOP campaigns to convince their candidates to drop out. As he wrote:
"Donors may think that party leaders can narrow the field. Not so. Candidates don't listen to party officials, because voters don't listen to them, either. And the last people who would ever encourage a candidate to withdraw are the campaign staff and consultants who want to keep their jobs for as long as possible."